Hail, Heat, Wind, Rain & Snow…
Bring it on.
Your EUROSHIELD® rubber roof has you covered in style.
EUROSHIELD® Rubber Roofing products were created over 16 years ago with the goal of diverting and recycling the tremendous deluge of used tires ultimately destined for landfill. Years of research and development led to the creation of a unique formula, containing 70% recycled tire rubber and approximately 95% recycled content, for the production of the finest rubber roofing products available on the market today.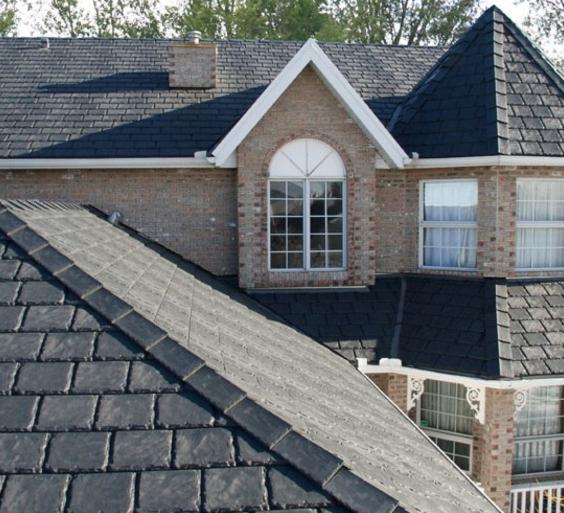 EuroSlate® and EuroShake® are the original rubber roofing products and feature our unique interlocking "tongue and groove" panel system. They present a thicker profile (3/4" at the butt edge) and weigh approximately 3.4 lbs per square foot. Light enough for any standard roofing application without the need for added truss supports.  EuroShake® offers both Taper-Sawn and Hand-Split look versions.  Heritage Slate, Beaumont Shake and Harvest Shake offer the same great looks and performance in a thinner profile, approximately 1/2" at the butt edge, at a much lower cost, typically between asphalt shingles and other premium metal, cedar and plastic composites. 
EUROSHIELD® manufactures 2 Slate profiles...
EuroSlate® and Heritage Slate.
EUROSHIELD® manufactures 3 Shake profiles...
EuroShake®, Beaumont Shake, and Harvest Shake.
Between 250 to 1,000 or more tires are used in the production of a single EUROSHIELD® roof for replacement or new construction applications.  Scrap material generated during both the manufacturing and installation process can be collected and recycled again – virtually eliminating environmentally harmful waste.
FEATURES & BENEFITS
• Looks Great – Aesthetically Pleasing
• Durable – Walkable – Long Lasting
• Environmentally Friendly Recycled Rubber
• Extreme Hail Resistance – UL2218 Class 4 Listed
• Lightweight (2.1 to 3.4 lbs/sq.ft depending on   profile)
• Affordable Permanent Roofing
• Maintenance Free
• Potential Insurance Discount (hail impact)
• Quiet – Sound Deadening & Insulating
• Adds Value to Your Home
• Transferable Limited Lifetime Warranty
• Hail Warranty*
To find out more visit the Euroshield  website @ www.euroshield.com